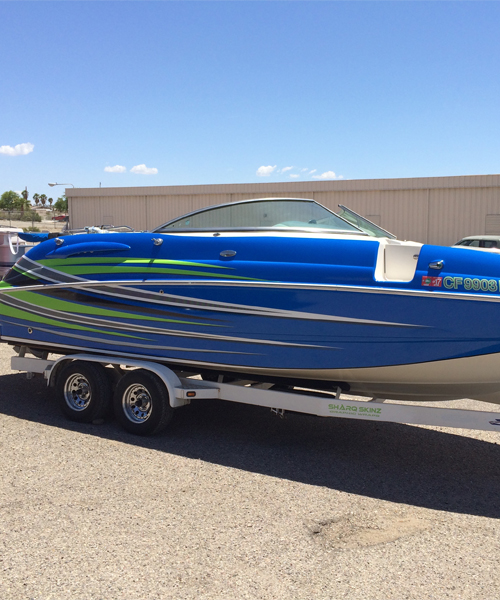 Frequently Asked Questions

If you can not find your answer, please send us your question and we will answer you as soon as possible.
Why should I choose SharqSkinz?
We feel the answer to this question revolves around how we do business. At the foundation is our 30 years of experience in the Graphic Arts & Printing Industries. We couple our experience with ethical and fair business practices, multiple locations and our commitment to use only the best materials and installation techniques available. Our goal is to build loyal, satisfied customers.
What kind of durability/lifecycle can I expected from my Wrap?
There is no blanket answer to this question as every customer's usage cycles differ. Additionally, the way the wrap is maintained will also have a significant impact on the lifecycle of the product. In general, you can expect 2-3 years of serviceability; however, with indoor storage, proper maintenance and reasonable use cycles it is not unreasonable to expect the wrap to stand up for 5-8 years.
How is the wrap installed?
The installation process is our "secret sauce" and is a key differentiator in the Sharq Skinz, LLC offering. We view every installation as unique, and alter our techniques depending on how the client will ultimately use the vehicle, vessel or aircraft. In a nutshell, the installation process uses specialized tools and techniques to manipulate the material to the contours of the vehicle or vessel. In certain applications we also use products to enhance the durability.
How is a Wrap manufactured?
The transformation starts with a collaborative design process between the client and the Sharq Skinz, LLC artists. Once a design is approved, the digital file is printed on the application-specific material. The subsequent print is left to cure for 24 hours to ensure the eco-friendly inks set up. After the curing period, a high gloss, matte finish or satin laminate is applied to the print. This lamination provides protection, UV filtering and enhances the overall look of the design.
What kind of materials are used?
We focus on using the very best materials to produce our wraps. We purchase our raw materials from one of the nation's leading suppliers who focuses on material rotation and inventory management. We receive the materials direct from their climate controlled warehouse ensuring our products are manufactured with the freshest material available. At Sharq Skinz, LLC, we use only the best raw materials from 3M, Arlon, Avery, Mactac, Oracal and Solvex.
What is a wrap?
At Sharq Skinz, LLC, we routinely field this question. On a very simplified level, it is a "sticker" that is applied to your auto, boat, motorcycle, ATV or aircraft. The materials we use depends on the specific application, usage cycles, installation surface and is also driven by the customer's budget. Once installed, the wrap transforms your vehicle or vessel into a work of art similar to a custom paint job.